It came upon me last night.

Must. crochet. scarf.

Probably this is due the fact that it is now cold enough to wear one. Winter seems to begin here shortly after Xmas. Sure it is often cold before Xmas, but not consistently. You can't rely on it being cold or snowing until after the first of the year. Hence the desire for a scarf.

It was 8pm when this need came upon me, so I decided to go browse my yarn stash, in search of the scarf I had begun last year at this time. I found it in it's project bag, minus the hook, making the project impossible to complete. I cannot begin to guess what size hook I used to dc the rows already completed. Most of the UFO's in their bags have their hooks or a note saying what sized hook was used. Anything lacking hook or note must be experimented with & failing any easy match is scheduled for unraveling. But I did not feel like unraveling 2 feet of already crocheted yarn & eyelash yarn. So I poked around the bins & shelves to find something else to use.

I have almost enough yarn to open a small shop. I am not buying any new yarn until summer at the very least. A lot of it basic cheap poly stuff, & then there is the Homespun. It is embarrasing how much Homespun yarn I own. This is due to my inability to figure out how much yarn a project will require. I overbuy every single time, usually several skeins worth.

I ended up selecting some black TLC Amore yarn & some multicolored Bernat eyelash yarn. I like the eyelash look but cannot crochet with it unless I have some other yarn at the same time. It's not quite turning out as I envisioned.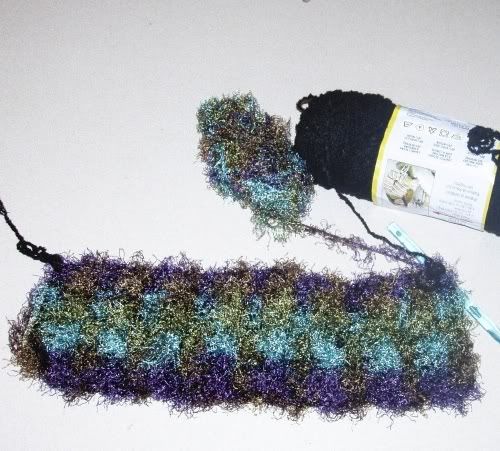 It's heavier for one. I unraveled & restarted this twice last night,making it smaller across and using a larger hook, but it's not helping. Also I am not sure what I was thinking when I bought this particular eyelash pattern. I must have had something in mind because I have a half a dozen balls of the stuff. It looks sort of a like a giant festive caterpillar decorated for Mardi Gras, which is not quite the look I was going for.

I'm thinking I need to just drop the eyelash idea, grab a P or Q hook and some Homespun and just get on with it.