here are some 'after' shots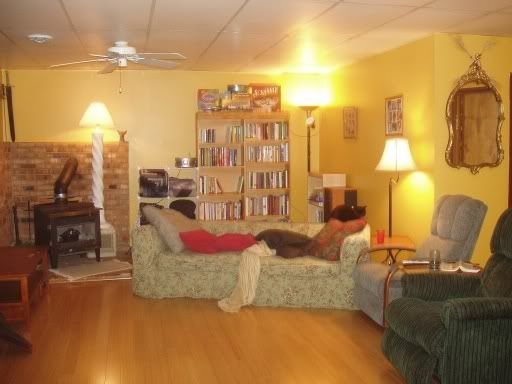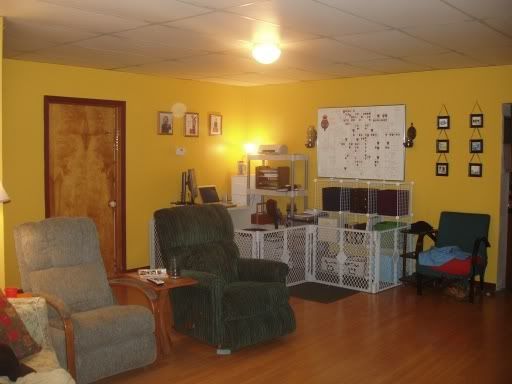 Please note, ifyou can see it, my beloved flat screen monitor is back :) It's new. They couldn't fix the old one so they replaced it with a new one that is actually bigger than the old one. I've scrapped 2 layouts since I set it up on Tuesday. :)

And now for the bad news. Yesterday I failed to miss a chuck of tree branch in the road. Hit it pretty much dead on the passenger side. Took out the crossbar on the underside of my car, which sheered the bolts out of the radiator. And that is just the damage I could see. Fortunately I was only a quarter mile from my house & made it into the driveway before the radiator really started leaking....ok, it gushed fluid as soon as I stopped the car. I had it towed to our mechanic that afternoon. Today I called and he says I'd better call my insurance as I have "significant damage' to the car and it needs to go to a body shop. DAMN! 2 weeks ago I got a letter from my insurance telling me that starting March 14th my payments were going down $10 a month. Wanna bet that doubles in the opposite direction? I called the insurance, they arranged for a rental car as I was bright enough to include that on my policy when we switched. I arranged for the mechanics to tow the car to the autobody place (Which is owned by a guy who used to work for the mechanic and is a customer of DH's company. gotta love small towns) I'd been told it would be 48 hours before an adjuster could look at it but he called me about an hour later & actually inspected the car before it left the mechanics shop. He also noticed a cracked front fender. The mechanic said my compressor had been damaged & possibly the transmission as something is still leaking fluid. Lovely. I just had that transmission replaced in August. Not being able to see the compressor or the transmission the adjuster did a claim for $1012 & is sending me a check for $512. If other stuff is needed they will just pay the autobody place directly. unless, and here is the kicker, the transmission is shot. Given the age, mileage and damage to the car (this is the second collision it's been in. DH failed to miss a heavy folded tractor trailer tarp in Nov 2002) they will declare the car totalled. We are so screwed if that happens. My car is paid off. We can't afford a car payment right now, not until DH's truck is paid off next Jan. we'll get at best $5000 for my car as a payout. I am so hoping there is nothing so significantly wrong with the car that they will call it totalled. I really need that car to last another year at least.